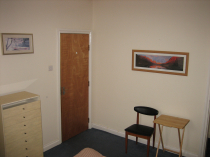 £325/month
Shared Kitchen
Shared Bathroom
Shared Washing Machine
Garden
property features
Address : 12 Beckett Road, Doncaster, United Kingdom
Big, sunny room is located on first floor and includes bed, curtains, wardrobe, chest of drawers. Situated 6 minutes walk from the town centre. Shared areas-kitchen with two fridge-fridges, cooker, sink, washing machine, microwave, table and chairs, two shower rooms and large back garden. Gas, water rates and the Council Tax included.
View detail
£325/month
Shared Kitchen
Shared Bathroom
Shared Washing Machine
Furnished
Garden
Separate Living Room
Separate Kitchen
property features
Address : 26 Christ Church Rd, Doncaster, United Kingdom
The good size room includes the bed, chair, radiator, curtains, set of drawers, NEW carpets.
View detail